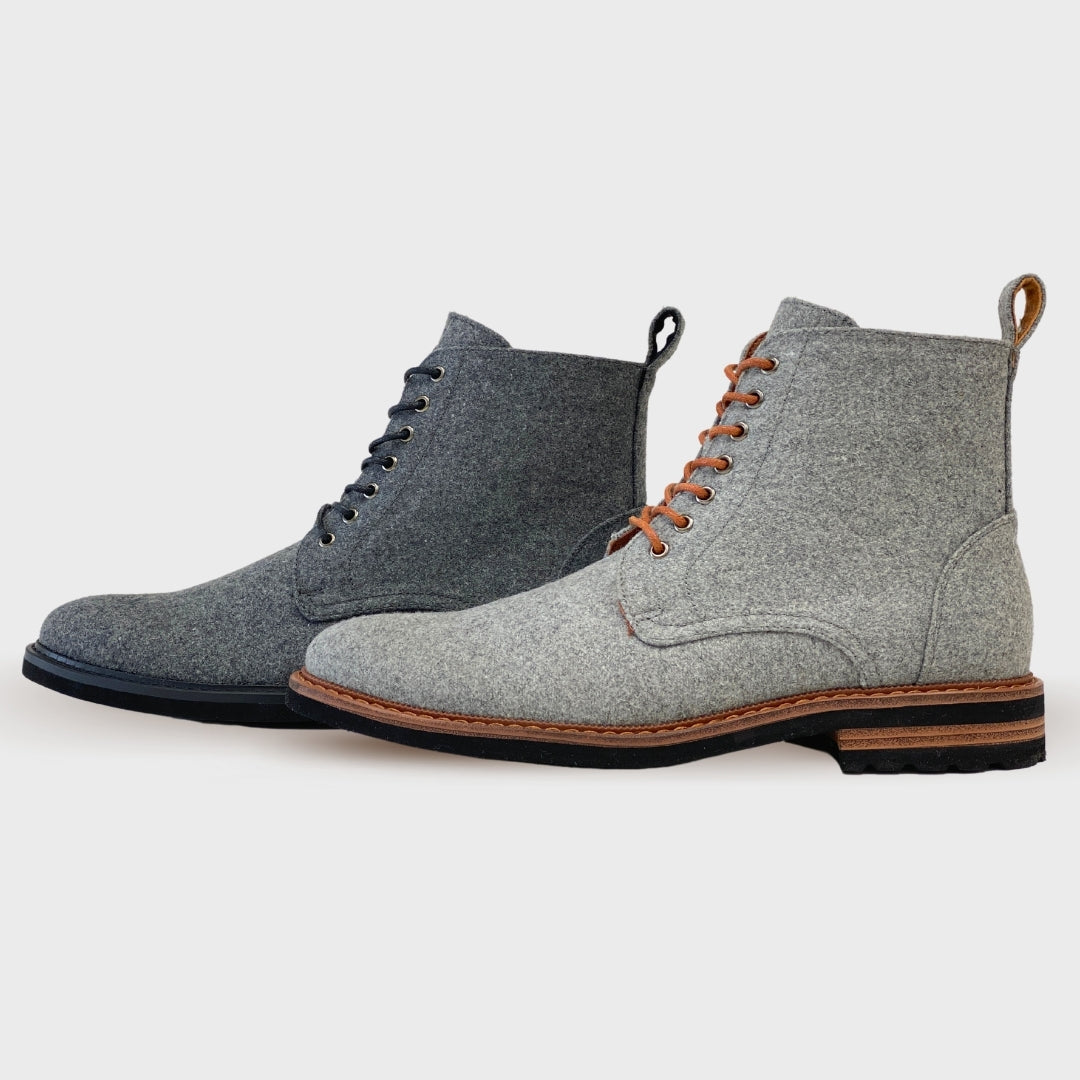 3 Essential Boots for the Fall Season
Fall Fashion
Fall attire is soon to be on display all around you this season. After having such a warm summer, you might ask yourself, "I don't know what to wear during this time of the year now." It'll be a breeze to transition to fall outfits with the help of layering and accent pieces. For those who grow warm or cold easily, the beauty of fashion during this season is that layering helps you adjust to the environment you are in by having extra clothes on hand that you can take off or keep on. Additionally, accent pieces for the fall weather that you typically would not wear during summer can help pull together your outfit. There are beanies, scarves, and other accessories that you can incorporate into your look, however boots are a necessity when it comes to this time of the year. Three essential boots we recommend from our collection for fall are: Barrett, Duke, and Wright.
Barrett

First on our list of boots we recommend for fall is Barrett, one of our classics from the Polar Fox collection by Conal. Coming in five different colors and textures such as wool or faux leather, there are various ways that you can style these classic chelsea boots. A curated look that we advise to wear with Barrett would be cuffed skinny jeans paired with crisp white shirt and overcoat. Having jeans that are cuffed will help show off Barrett entirely instead of showcasing merely the mid-to-sole of the boot. Don't be afraid to walk around town with these chelseas as our Barretts have memory foam insoles that make traveling comfortable.
Duke
Next up for our fall boots would be Duke, the wool boot wonder. Duke comes in two different shades of gray wool: Dust Gray and Dark Gray. Dust Gray appears lighter with sierra brown waxed shoelaces for that extra pop of color. Dark Gray has a more toned down look with the darker wool with the same shoelaces, but in black. Whichever pair you choose, these will pair incredibly well with darker denim for that added flair with the lighter wool or the more muted tones with dark wool. Pair the Duke and denim combo with a plain shirt and bomber jacket for extra style points.
Wright
Last but not least, we have Wright, the ideal burnished boot. Wright comes in four shades: Cigar, Mocha, Toffee Suede, and Olive Suede. Aside from the suede pairs, Cigar and Mocha are both faux leather that are smooth to the touch. Toffee Suede and Olive Suede highlight soft fabrication and brighter fall colors to make your outfit stand out. For all of the Wright collection, we feel that pairing these with slim denim and a flannel is the perfect way to dress these boots up.
--
All in all, these boots set the bar for your fall fashion needs. Not only are they stylish, but they are feasible to dress up without having to spend too much out of pocket. To view more of the colors and styles we have to offer, check out Conal Footwear and find the pair that suits you.