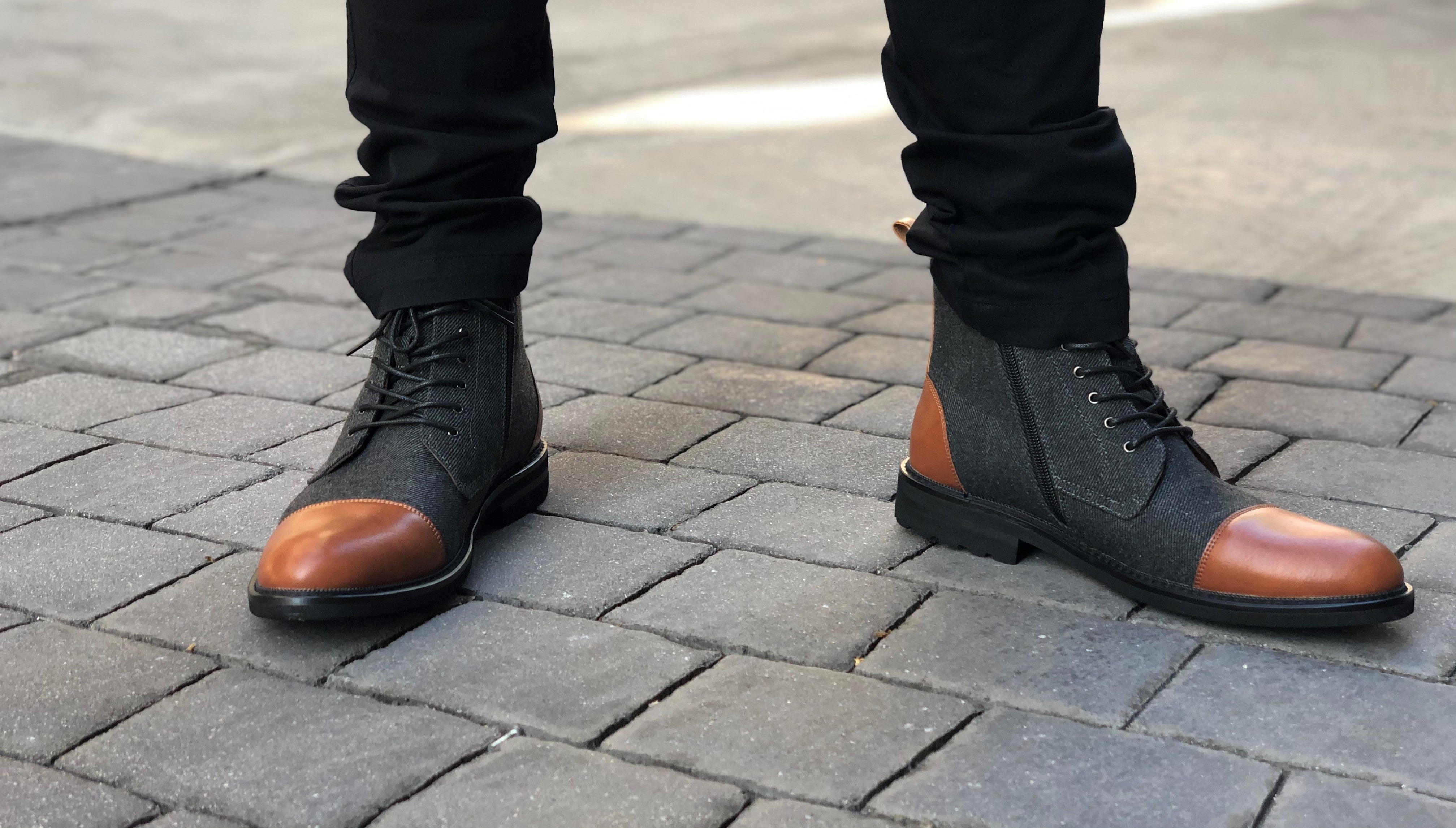 If you are new to the world of men's boots, finding the right pair can be overwhelming. With different styles, different materials, and different ways to wear them, it is hard to know which boots are absolutely necessary.
But finding the right pair of men's dress boots does not have to be this way. Most men only really need three pairs. With Chelsea, chukka, and lace-up boots, you will be covered for all occasions and manners of dress.
Chelsea Boots
The Chelsea boot has been a staple of the gentleman's wardrobe for centuries. Typically made of patent leather or suede, they fit in at casual, business casual, and semi-formal settings. They are designed to slip on and off easily through their signature elastic side ankle.
Patent leather Chelseas appear slightly more formal than their suede counterpart. Vegan Leather boots can pair with a checkered or patterned blazer, as well as a pair of chinos, to fit in at the office. Swap out the blazer and pants for a suit, and they work just as well at a wedding or an exclusive restaurant.
Chelseas made from suede offer a more casual look. Black suede Chelseas offer city-vibes, while brown ones are perfect for hanging out at your favorite restaurant or bar.
Regardless of the material, you should always make sure the leg of your trousers does not hang over your Chelseas. Ideally, the very edge of the leg should sit barely over the top of the boot. Some men will also spray their boots with weather-resistant spray to help repel damage from rain, snow, or puddles.
Chukka Boots
Chukka boats also offer wardrobe flexibility. Defined by their two or three eyelets, thin laces, ankle-length height, and typically brown hue, chukka boots infuse a casual style with a smart look while not looking out of place at networking events.
Vegan leather chukka boots offer more durability than suede ones but are somewhat more formal. Light-hued suede chukka boots are ideal for a night out with friends or any casual event.
Because these boots provide style in almost any occasion, it is hard to find something that does not work with them. Throw on a cotton shirt and cashmere, and you have got business lunches covered. If you wear black jeans and a t-shirt instead, you have added sharp touches to an otherwise casual appearance.
The Lace-Up
For a more dapper appearance than either Chelseas or chukka, lace-up boots have you covered. They can also offer a more comfortable fit due to their slim, ankle-hugging appearance. Combined with slim-legged pants and an oxford shirt, lace-ups supply sophistication and class. You can also add a pop of color in an otherwise monochromatic outfit by simply wearing a bold pair of tall socks. Though they'll merely hint to observers between the boots and the pants leg, they can help set an outfit apart.
Just as with the other two essential pairs of boots, dark, patent leather lace-ups work better in formal situations. Lighter-hued, suede lace-ups offer a more casual vibe.
Men's Boots
These three pairs of boots will help set any men's wardrobe apart. At Conal Footwear, we offer high-quality, stylish, and inexpensive boots made from vegan leather and suede. To check out our line-up of men's boots, click here.